Sweet Pea's Public House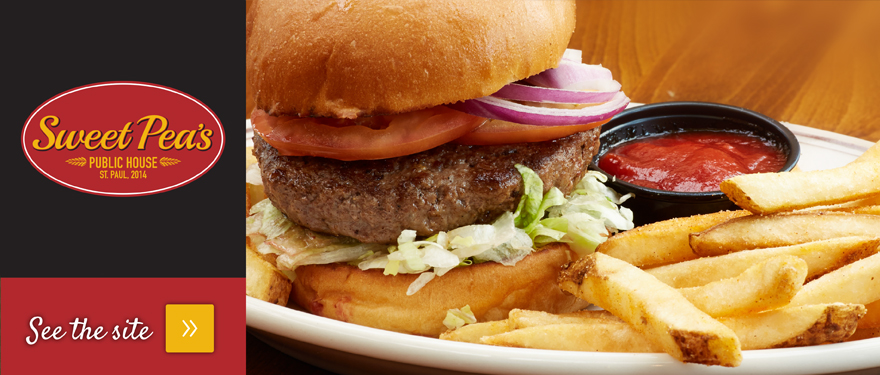 At  Sweet Pea's Pub, we're all about smiles. You'll see them on our bartenders and servers as well as your fellow patrons.
Sweet Pea's Public House, located on Randolph and Snelling in St. Paul, is a classic neighborhood pub. For a relaxing lunch or dinner, a quick stop on the way home, or an evening hanging out with friends, Sweet Pea's is your place. Completely renovated from the kitchen and bar to the dining room, our recipe for success combines unique, yet familiar dishes, a great bar selection (including 24 tap beers), a comfortable, relaxing atmosphere, AND stellar service – with a smile of course. These ingredients all combine to make Sweet Pea's The Friendliest Pub in St. Paul.
The menu at Sweet Pea's features a variety of comfort-food classics and a few special dishes you can only find here. Start with a unique shareable like our Totchoes or Margherita Flatbread, then go to the main course. A large selection of burgers and Lucys are at the heart of the menu, but don't overlook the tasty Tacos or incredible Pub Pot Pies. If you're a Prime Rib fan, you'll love the French Dip. Or if salads are more your taste, pair one with a bowl of Soup Du Jour. For lunch or dinner and happy hour, Sweet Pea's always serves up satisfaction and value with a smile.
With daily dining specials and happy hours, we make it easy to enjoy and easy on the wallet. Speaking of easy, we're easy to find and have free parking for patrons. When you're in the neighborhood, be sure to stop by and say hello. In the mean time, check out our website.
Sweet Pea's Public House
472 Snelling Avenue South
St. Paul, Minnesota 55105
651-698-0100